BEFORE APPLYING Please carefully review the press pack requirements section on this page for the necessary application requirements. If you have any questions, please contact us here.
To be considered for an upcoming performance, please email your application to [email protected] in the fall before the upcoming season. The booking process for the Summer Concert Series starts in September of the previous year and concludes by the end of March.
Please avoid repeated inquiries regarding your requested performance. We meticulously evaluate all submissions to find the best fit for our venue. If we are able to offer your group a performance opportunity, we will contact you with the appropriate details. Thank you for your patience in allowing us to curate our summer schedule with professional and FREE entertainment!
Press pack requirements:
To submit your materials for performance consideration, please email your press pack to [email protected]. Your press pack should include a group bio, current contact information, audio and video samples, group website, and a suggested price structure. Please note that failure to include an asking price may affect your chances of being considered.
When sending your email, please ensure that all necessary information is included. Due to the high volume of submissions, not all correspondence will be returned, but rest assured that all submissions for the upcoming year are reviewed. Avoid using the contact form or social media comments to apply for a performance. If your group qualifies for a performance, we will contact you using the information provided in your email. Please refrain from sending follow-up emails.
If you need additional correspondence, you may write to:
Rehoboth Beach Bandstand
c/o City of Rehoboth Beach
229 Rehoboth Avenue
PO Box 1163
Rehoboth Beach, DE 19971
Group requirements:
The Rehoboth Beach Bandstand provides a stage for artists of diverse genres and backgrounds. It should be noted that performers are selected through a formal application process rather than on a first-come, first-served basis or a waiting list. Performances are restricted to one set without any breaks, and must include clean music and lyrics, which is strictly enforced. Additionally, all performers must sign a performance contract with the City of Rehoboth Beach and provide a federal tax ID or social security number. Performances are scheduled to start at 8pm and must end by 9:15pm.
What we are looking for:
Our performer selection process strives to identify groups that demonstrate a remarkable degree of professionalism, which either meets or exceeds our expectations. We look for groups that can captivate our audience with their vivacious and family-friendly performances, accompanied by a well-practiced and refined sound. It should be noted that applications from solo or duo acts will not be considered.
Use of the Rehoboth Beach Bandstand:
The Rehoboth Beach Bandstand cannot be rented as it is solely dedicated to promoting musical entertainment to the community and nearby areas through our annual Summer Concert Series. Requesting to perform on a specific date is not permissible, and selection is based on the submission of press packs and other relevant materials.
If groups are interested in renting a venue for an event or performance, they can contact the City of Rehoboth Beach at 302-227-6181 to check the availability of the Rehoboth Beach Convention Center.
Pricing for groups:
It is the responsibility of each group to furnish the City of Rehoboth with their performance fee. Negotiations on pricing may or may not be feasible, and it is crucial to be mindful of this. Admission to the performances at the Rehoboth Beach Bandstand is free and accessible to everyone.
Performers will be paid only after completing a W-9 tax form and providing a federal tax ID number or social security number. Payment will not be disbursed until this information is received.
Food and lodging:
We do not offer food or lodging facilities for performers. Nevertheless, there are many food vendors in close proximity where performers can find food and drinks. Moreover, there are several hotels, motels, and inns scattered throughout the town and neighboring regions where performers can make their own arrangements for lodging. We do not have any existing agreements with local lodging establishments, and it is the performers' responsibility to arrange for their lodging during their stay in Rehoboth Beach.
What is provided to you:
SOUND
The City of Rehoboth Beach provides a comprehensive PA system and a sound technician for your performance. However, if you wish to bring your sound technician, they will not be permitted to use the equipment provided by the City. It is important to note that if you opt to bring your sound technician, you must also bring your sound equipment to the event.
LIGHTING
The Rehoboth Beach Bandstand provides general overhead lighting that brightly illuminates the stage and eliminates the necessity for groups to bring their lighting equipment. However, it should be noted that we do not offer colored or theatrical lighting. If you wish to use additional lighting on the stage, you will need to provide it yourself.
STAGE MATERIALS
As a performing group, you will have access to private facilities, including separate dressing rooms for men and women, 3 private toilet facilities, and air-conditioned backstage areas.
PARKING
Adjacent to the bandstand, you may park up to 6 cars (depending on their size). It should be noted that additional parking must be obtained using the parking meters in the vicinity. If you require additional parking arrangements, please contact the bandstand at least 7 days prior to your performance.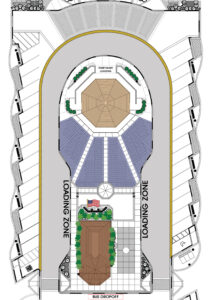 Stage layouts and sizes:
Below are renderings of the stage that may help you decide on placement for your group:
Directions:
The Rehoboth Beach Bandstand does not have an official address. It is located at the furthest point on Rehoboth Avenue before entering the boardwalk. An approximate address that you may use for GPS directional purposes is:
1 Rehoboth Avenue
Rehoboth Beach, DE 19971