COVID-19 UPDATE: Due to the continuing mandates in place to limit large gatherings and ensure the safety of the public and the performers, all events scheduled for the 2020 Summer Concert Series have been canceled. For more information and our official statement, please click here.

Vinyl Shockley
Friday, July 29, 2016 @ 8:00 pm - 9:15 pm
FREE
Event Navigation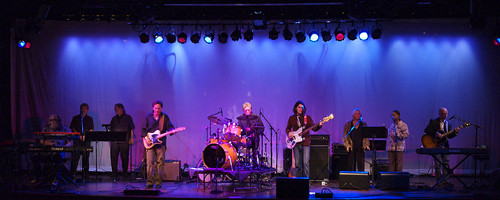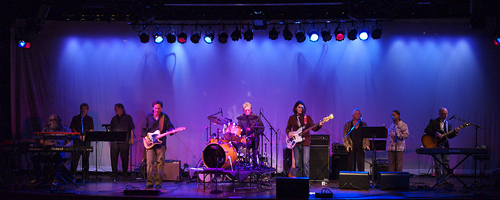 After successfully supporting others as a drummer, Ed Shockley, the guiding force behind vinyl shockley, decided to finally pursue his dream. As a singing drummer, Ed had been discouraged from attempting to "front" a band from behind the kit. "Different managers and record companies had asked me to move either to the keyboards or out front to more effectively lead a band, and I've tried it all. But nothing ever feels as good or as natural to me as singing and playing drums."
So Ed went back to his roots to put together vinyl shockley. "There is a type of music that has always appealed to me, a little off-center, that reflects the influences that rhythm & blues and hillbilly music have on each other." The way they come together, in Ed's mind, is unique. Finding like-minded musicians to create this music proved to be a challenge. After several starts and stops Ed finally found a group of musicians that understood the flavor he was looking for and the band's first CD followed.
"A few years ago I started working on this music and approach because I thought the timing was right. There was a music-loving adult audience out there that had been overlooked and underfed by the major record companies. The successes of the AAA and Americana formats have proved my point", Ed said.
The name, vinyl shockley, has a two-fold significance. Firstly, Ed's grandfather's name was Vinal and it has always been in the back of his mind, and secondly, the rootsy aspect of this music reflects the respect he has for and the inspiration he gets from old records (vinyl) he collects. Hence: vinyl shockley
The music of vinyl shockley has been called "blue-eyed soul with a Stax/Volt twist", and Ed's "smiling, pensive voice" "reminiscent of a young Van Morrison". As one reviewer wrote: "take the time to enjoy this honest music that soothes the soul and moves the feet."