US Air Force Band Singing Sergeants
Friday, June 22, 2018 @ 8:00 pm

-

9:15 pm

FREE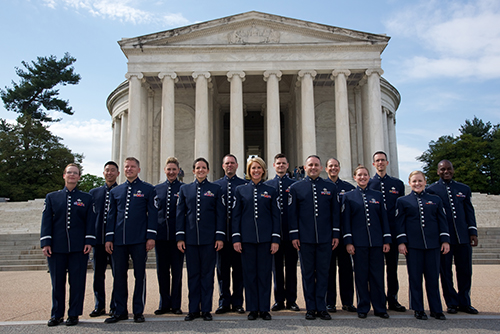 The Singing Sergeants is the official chorus of the United States Air Force. Stationed at Joint Base Anacostia-Bolling in Washington, D.C., the group is one of six musical ensembles that comprise The U.S. Air Force Band. Featuring 23 active duty Airmen musicians, the Singing Sergeants presents more than 200 performances annually performing a wide range of musical styles, from traditional Americana, opera, and choral standards to modern Broadway and jazz. The Singing Sergeants regularly perform with their instrumental combo and in smaller configurations, such as duets, Barbershop quartets and specialized musical ensembles, at military and civilian ceremonial and diplomatic functions, education outreach events and local concerts throughout metropolitan Washington, D.C.
Originally formed as a men's chorus in 1945 from the rank and file of The U.S. Army Air Forces Band, the Singing Sergeants became the first premier military chorus to integrate women in 1973. Today, the group's members often perform for the Department of Defense and other high-level military and civilian functions, using music to bridge language and cultural differences and helping advance positive diplomatic relations through song. The chorus is regularly featured at regional and national music education conferences, including the American Choral Directors Association, the Music Educators National Conference and Chorus America. At varied venues, the Singing Sergeants reach a diverse audience with the beauty and power of music.
As part of The U.S. Air Force Band, the Singing Sergeants honors those who have served, inspires American citizens to heightened patriotism and service, and positively impacts the global community on behalf of the U.S. Air Force and the United States. The excellence demonstrated by these Airmen musicians is a reflection of the excellence displayed by Airmen stationed around the globe. Each member is proud to represent all Airmen, whose selfless service and sacrifices ensure the freedoms we enjoy as citizens of the United States of America.