COVID-19 UPDATE: Due to the continuing mandates in place to limit large gatherings and ensure the safety of the public and the performers, all events scheduled for the 2020 Summer Concert Series have been canceled. For more information and our official statement, please click here.

The Rad Trads
Saturday, June 14, 2014 @ 8:00 pm - 9:15 pm
FREE
Event Navigation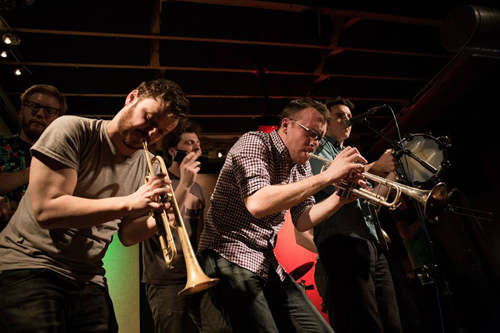 Based in New York City, The Rad Trads have quickly gained a reputation as one of New York's most entertaining live acts. Comprised of some of NYC's top instrumentalists & vocalists who perform with top groups such as Truth & Soul Record's "Lady," EMEFE, Juice Box, & Jonathan Batiste, The Rad Trads bring their love of the game to a diverse range of soulful American music, from early jazz to New Orleans brass band, R&B and the Delta Blues. Fronted by four powerful horns, stirred up by a driving rhythm section, and featuring soulful vocal harmonies to boot, The Rad Trads consistently win over audiences with their unique energy and enthusiasm. The band can be found performing regularly for capacity crowds in NYC at top clubs like Webster Hall, Arlene's Grocery, Ella Lounge, The Blue Note, Bowery Electric, and Radegast Hall and Beer Garden, or touring across the United States. Members have performed or recorded with members of acts such as Deer Tick, Sharon Jones & The Dap Kings, Lee Fields & The Expressions, and Antibalas, among many others.