COVID-19 UPDATE: Due to the continuing mandates in place to limit large gatherings and ensure the safety of the public and the performers, all events scheduled for the 2020 Summer Concert Series have been canceled. For more information and our official statement, please click here.

THE British Invasion Tribute
Sunday, August 17, 2014 @ 8:00 pm - 9:15 pm
FREE
Event Navigation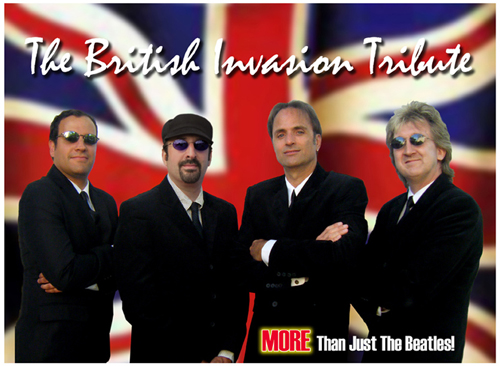 Bassist Robert Murdock originally formed the band in 1995 ago along with guitarist Lee Scott Howard and drummer Jeff Alai. The group quickly gained popularity performing note-for-note Classic Rock tribute shows. During this time, the band also released two critically acclaimed albums, Don't Quit Your Day Job and Horizontal Hold on Dockside Music Records.
Several years later, the trio decided to focus solely on the music they all loved growing up. Rather than simply paying tribute to just one artist, they expanded the show to include 1960s Pop and Rock hits from both sides of the Atlantic. With the addition of keyboardist/guitarist Jon Wolf in 2004, the lineup was completed. The result is a nostalgic retrospective with a little something for everyone!