The Air National Guard Band of the Northeast
Friday, July 1, 2016 @ 8:00 pm

-

9:15 pm

FREE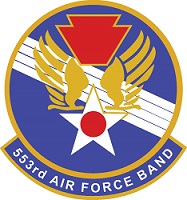 The Air National Guard Band of the Northeast supports the total Air Force mission in war and peace by preserving our national heritage, accomplished mainly through the professional musical it provides for official military, recruiting and community events. Like all Air National Guard bands, the Band of the Northeast is assigned the state mission of supporting regional Air National Guard units through performances in military ceremonies, by promoting recruitment and retention of Air National Guard members, and in annual public relations concert tours. As traditional guardsmen, band members can be also called upon to assist other Air and Army National Guard units with civil defense duties and disaster relief efforts.
United States Air Force and Air National Guard bands have several objectives: first, to enhance airman morale, esprit de corps, and retention; and second, to inspire patriotism, support Air Force recruiting, and encourage young men and women to serve in the military. These bands increase public awareness and understanding of the armed forces and the mission, policies, and programs of the Air Force, garnering and enhancing public trust and support. They also strengthen the reputation of the Air Force as a good neighbor, a respected professional organization charged with part of the responsibility for national security.
In performing these missions, the Air National Guard Band of the Northeast is in great demand throughout the region and around the globe. Recent years have found the band playing to capacity audiences in major venues throughout the eastern United States and in such distant places as Europe and the Caribbean. A recent deployment included performing for our troops in Kuwait, Bahrain, Qatar and Afghanistan. The band's annual concert tours have included performances at New York's Chautauqua Institution, Baltimore's Inner Harbor and Philadelphia's Avenue of the Arts. Additionally, the band has been a centerpiece of civic events such as the Governor's inauguration; conductor training workshops, clinics for young musicians; recruiting tours in schools and universities, and large parades such as the Philadelphia Independence Day Celebration Parade.
The band performs as a concert band, ceremonial band, "High Altitude" Popular Music Ensemble, "The Guardsmen" big band jazz ensemble, "Brass in Blue" brass quintet, "In Flight" woodwind quintet, jazz/popular combo, and "German" band. Recent military events have included the Air National Guard Senior Leadership Conference in Washington, D.C., and the annual Pennsylvania Air National Guard "Flight of Freedom" ceremony. In addition, the band has become a regular performer at the Pocono Raceway for several NASCAR races.