THANK YOU!

Our 2021 Summer Concert Series was a great success! At this time, our 2022 Summer Concert Series is being created. Please check back in the spring for a complete schedule of our 60th season at the Rehoboth Beach Bandstand.


Milford Community Band
Friday, June 20, 2014 @ 8:00 pm

-

9:15 pm

FREE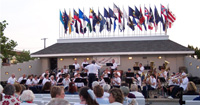 The band started as the "Milford Adult Community Band", but dropped the "Adult" after a few years. Membership is open to anyone who has a horn and can read music. The major purpose of the band is to provide a place to play. Those of us who used to play in high school/college, then discontinued playing (for whatever reason) and want play again now have the opportunity. Secondary purpose is to provide musical entertainment for appreciative audiences. Current membership now includes many young people from 7th grade on up through seniors in high school. Of course, there are also older people, several in their eighties. There are several family units: Mother and two children; 2 Dads and their daughters; 4 husband/wife combinations. Membership changes, of course – people move away, lose interest, etc. Since its inception, there have been 282 participants in the band. The active list contains about 63 names. The members come from Bridgeville, Clayton, Dover, Ellendale, Felton, Georgetown, Greenwood, Harbeson, Harrington, Lewes, Smyrna, Lincoln, Magnolia, Milford, Millsboro, Milton, Rehoboth, Seaford, and Selbyville.