On a mobile device?
View our monthly calendar for quick display!

USAF Band, "the Blue Aces"
Sunday, August 27 @ 8:00 pm - 9:15 pm
FREE
Event Navigation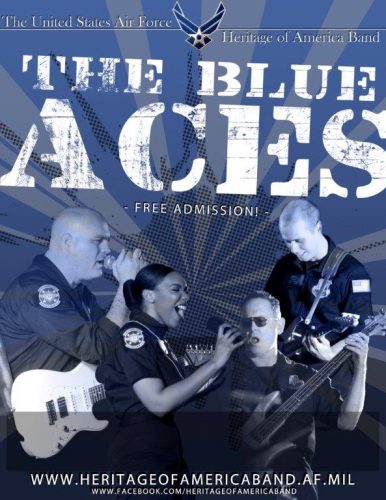 The Blue Aces are 6 dynamic Airman-musicians who perform a diverse mix of today's favorite artists and the old school rock and rhythm and blues of yesterday. The band has a true Americana sound, with a lead singer, guitar, keyboards, bass, drums and audio/video engineer. They are in high demand for a variety of audiences and settings throughout the Eastern United States.
The Blue Aces have deployed multiple times to Southwest Asia, supporting U.S. and Coalition Troops, while building international friendships. They have performed with numerous professional artists all over the world.