On a mobile device?
View our monthly calendar for quick display!

Good Vibrations
Saturday, August 27, 2016 @ 8:00 pm - 9:15 pm
FREE
Event Navigation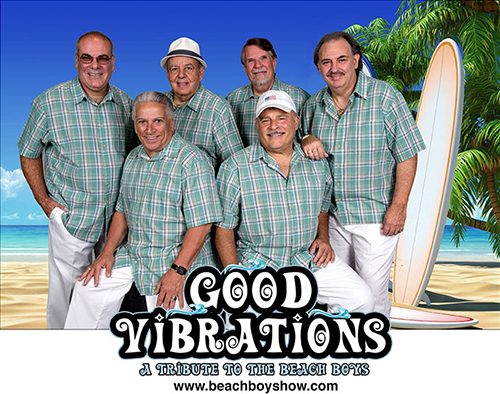 With harmonies second to none and the falsetto of lead singer, Eddy Michaels, Good Vibrations: A Tribute to the Beach Boys is a must hear!
In addition to lead singer Eddy Michaels, the band consists of Lenny Terry, first tenor and bass player; Anthony D'Antuono, second tenor and Drums; and Dave Talbot, baritone and lead guitar and Rich Hendrickson, Keyboards.
Good Vibrations has wowed audiences all over the country with their explosive sound and entertaining show –
Playing the very best of The Beach Boys!